David Woodberry
Dwoodberry
Austin, United States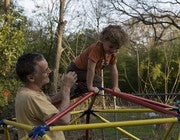 estadísticas de la cuenta
Archivos cargados:

87

Ventas totales:

230

Exposición de portafolio:

0.02%

Exposición de la base de datos:

0%

Descargas por imagen:

2.64

Foros:

0

Cargas mensuales:

0.70 promedio
BIO
My name is David Woodberry and am a freelance animal (dogs/cats in particular) and flower photographer, shooting for stock and for private clients who include pet stores, families, pet owners and magazines. I also do design work for cd and book covers. Basically I will shoot anything that I consider beautiful or humorous. with the hope to evoke from others the aesthetic delight and laughter that I felt when seeing the image. I have a small studio in my home in Brentwood, California, us ... más
My name is David Woodberry and am a freelance animal (dogs/cats in particular) and flower photographer, shooting for stock and for private clients who include pet stores, families, pet owners and magazines. I also do design work for cd and book covers. Basically I will shoot anything that I consider beautiful or humorous. with the hope to evoke from others the aesthetic delight and laughter that I felt when seeing the image. I have a small studio in my home in Brentwood, California, use a Canon 5D and have Canon 24-70 L, an Canon 70-300 DO, and a Canon 100 EF macro. I am also a member of the Professional Photographers Association and subscribe to what I consider the best photo magazine around - Photo District News. You are welcome to contact me with anything with which I may be able to help. Good luck to all.
esconder
Sitio web:
http://https://picasaweb.google.com/dwoodberry/For...
Apuntado :
October 21, 2007
Equipo:
Canon 5D body and Canon 24-70 L, Canon 70-300 DO, Canon 100 EF macro lens. Also use 2 1000 watt Britek lights, a couple of light tents and a Manfrotto Bogen 3047 tripod.
Temas preferidos:
Abstracts of nature, especially involving water. Dogs and cats, children, plus anything beautiful or funny.